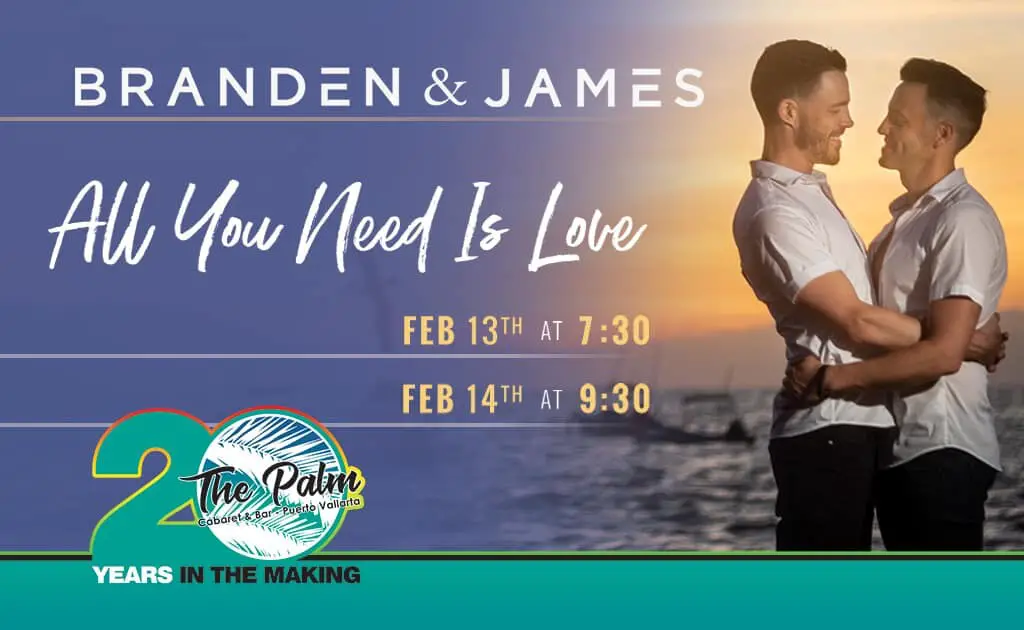 Branden & James – All You Need Is Love

A Special Valentine Presentation of Puerto Vallarta's most loved couple
BRANDEN & JAMES, "a powerhouse cello and vocal duo" (The Fight Magazine, Los Angeles), brings the soulful timbre of James on his cello combined with Branden's emotional and powerful vocals, creating a sound that leaves audiences feeling moved and inspired. "…the always supportive, sometimes haunting power of the cello accompanying Branden's voice solidifies the classical sound, adds new depth to the popular, and allows the audience to just sit back and take it in…so movingly, that you may forget to breathe!" says Paul Lisnek – Host of Broadway in Chicago Backstage.
The energy and fervor behind their music has a story to tell of their unique pairing. Branden had a successful career on stage and in recording prior to his meeting the Australian cellist, James. Some of Branden's accolades include finishing as a finalist on season 8 of America's Got Talent, appearances at The Metropolitan Opera, Lyric Opera of Chicago and Los Angeles Opera, two world tours with the renowned Twelve Tenors and two solo releases worldwide. James brought to the mix his own share of musical accomplishments, accompanying Olivia Newton John, Idina Menzel and Bernadette Peters in multiple concerts. He initially came on board to music direct one of many charity concerts in which Branden was performing, and their connection was so immense they began to play together regularly. "Hardly a supporting player, but, rather, a true co-creator and co-star" (Robert Windeler, NY Times Correspondent) Clark started creating arrangements of familiar tunes that make you listen to them like you've never heard them before. Shortly after playing their first public concert together, they've been touring around the world with their innovative, classically inspired covers and original songs.
Since forming as a duo, they have shared the stage with legends such as Sarah Maclachlan, Rita Moreno, Sally Struthers and Loretta Divine. They recently debuted at Feinstein's/54 Below in New York City to critical acclaim. They regularly entertain for Princess, Oceania, Azamara, Seabourne, Regent and Silverseas. In 2019 they will make their debuts at The Savannah Center in Florida, Feinstein's at The Nikko in San Francisco and The Lensic Center for the Performing Arts in Santa Fe, NM. Reminiscent for some as The Piano Guys meets Josh Groban, they weave familiar melodies of pop tunes in classical style with their own unique sound. Branden says, "people tell us we're so unique and different. I think that's what excites us most. We're creating something people haven't heard before." In the meantime, Branden and James just recorded a brand new album with Billboard chart-topping producer Patrick Hamilton (Jackie Evancho, Katherine Jenkins, David Garrett) full of originals and covers including a collaboration with Billboard #1 recording artist, Shoshana Bean.