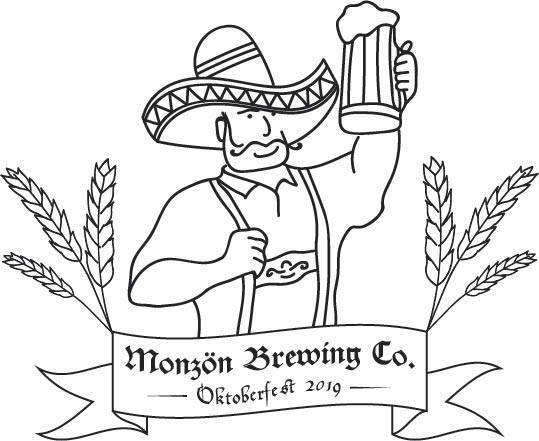 *****español abajo****
PROST! It's the end of Oktoberfest and we want to celebrate in German style, with a Monzón twist!
The fun includes:
-Special edition bier stein
-Unlimited German Beir: Cálmate Kölsch, Luna de la Cosecha Fest Bier, and Goserita Jalapeño Margarita Gose
-Chamorro-Schweinbbraten pork shank cooked in beer salsa (1per person)
-All you can eat sides of Speckbohnen (green beans with sausage), Rotkohl (purple cabbage in vinaigrette), Kartoffelsuppe (potato soup), Reiberdatschi (fried potatoes pancakes in salsa), Steckerlfisch (fish on stick), bread
-Win beer prizes and massive bragging rights! Games include a chugging competition, stein holding competition, and hammerslagen
Vegetarian options are available, please specify when purchasing your ticket.
Tickets on sale now at Monzón!
Day of, $599.
Early Bird (purchased by October 3), only $500.
Special Storm Chaser Pint Club Early Bird (purchased by October 3), only $450!
********************************************************
PROST! Es el final del Oktoberfest y queremos celebrar al estilo alemán, con un toque de Monzón!
La diversión incluye:
-Edición especial bier stein
-Beir alemán ilimitado: Cálmate Kölsch, Fiesta de la Luna de la Cosecha y Goserita Jalapeño Margerita Gose
-Chamorro-Schweinbbraten en salsa de cerveza (1 por persona)
-Todo lo que se pueda comer de: Speckbohnen (frijol verde con salchicha), Rotkohl (col en vinagreta), Kartoffelsuppe (sopa de papas), Reiberdatschi (tortitas de papas fritas en salsa), Steckerlfisch (barritas de pescado), pan.
-Gane premios de cerveza ! Los juegos incluyen una competencia de chugging, una competencia de sostenimiento de stein, y hammerslagen.
Las opciones vegetarianas están disponibles, por favor especifique cuando compre su boleto.
Ya están a la venta las entradas en Monzón! Día de, $599.
Early Bird, comprado antes del 3 de octubre, sólo $500. Special Storm Chaser Pint Club Early Bird, comprado el 3 de octubre, por sólo $450