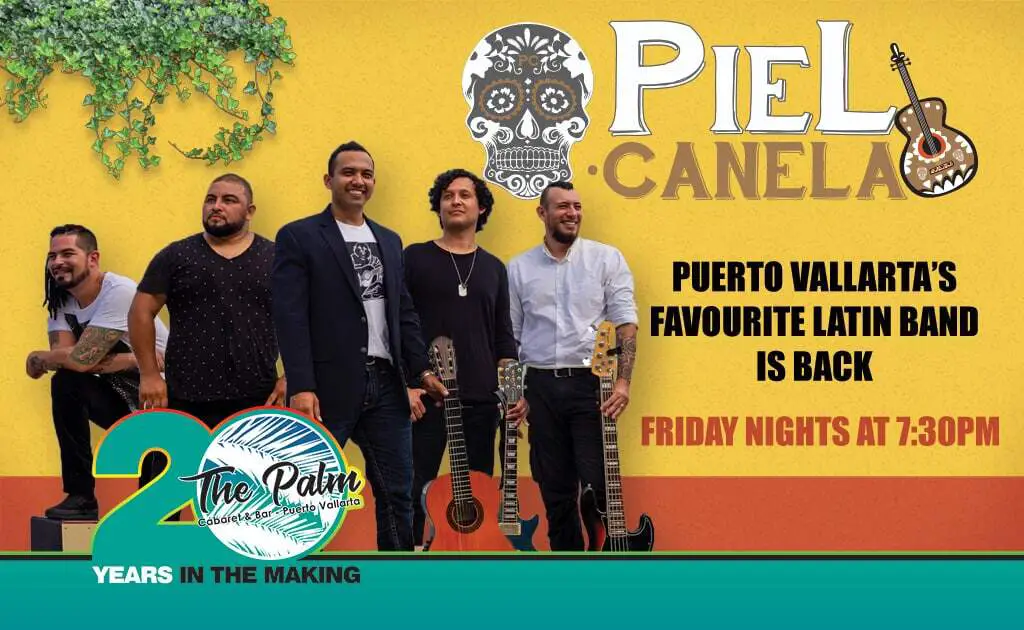 Fernando Huerta Gonzalez born and raised in Puerto Vallarta coming from a musical family, he discovered his love for music at a young age but had the opportunity to take it more professionally eight years ago when he started his own band Piel Canela, which is now one of Puerto Vallarta's hottest Latin bands! His success has enabled him to travel whilst sharing his talent in other countries like the USA, Europe, and Canada. His passion for rumba flamenco styles of guitar playing paired with his vocal ability has opened many doors for Fernando, enabling him to play in the best theatres with great artists from all over the world. Theatre shows, fundraisers, restaurants, weddings, wineries, private events, and parties – he plays them all! Piel Canela was most recently invited to Canada to play at the most desired and recognized venues in the Okanagan Valley, British Columbia, including a sold out show at the Vernon Jazz Club. The love and dedication for his culture and craft with his high energy personality makes for impressive and memorable shows!
Gary Michel Flores Morales a native of Guadalajara and born in a cradle of musicians. He began his musical career as a percussionist at 13 years of age, receiving his first bongos as a birthday gift is where it all started! His principles consist of his training in Latin rhythms for being part of orchestras of Afro-Antillean music. As time went by he entered genres that demanded the maximum, entering into styles of flamenco music, indigenous music (Mayan instruments) to finally reach his most desired instrument in which he now plays everything he knows on the percussion's. He loves playing an overall mix within the drum family! Gary now at 30 years of age and 17 years of experience, his career is within the local jazz scene in the hot Puerto Vallarta music industry, which leads him to dominate rhythms from all over the world including Mexico, Cuba, Puerto Rico, Jamaica, Dominican Republic, Costa Rica, Panama, Peru, Columbia, Venezuela, Brazil, Argentina, Spain, Italy, India, and Africa! Gary Flores delivers all his drumming abilities, styles, talent, and influences to Piel Canela.
Luis Rascón Pantoja received his first musical lessons at an early age, from his father Servando Rascón Vera both a trumpeter and director, participating in orchestras and groups of Latin music on the percussion's. He studies at a higher level with a specialty in double bass. Luis participates in different symphony orchestras as a double bass player and continues to play tropical music in different groups which creates a style and technique of a special sound. Looking to produce music, create new sounds, and experiment with different instruments such as; violoncello, violin, duduk, kenas, and all kinds of percussion's are now a fundamental part of his projects. He is currently an upper level teacher in the music division at The Univa Puerto Vallarta and takes part of important show groups in the region. From the hand of all his instruments he delivers a musical passion he finishes the melody he plays.
Jose Galvan Garcia "Pepe" a bassist and professional guitarist. At 29 years of age Pepe has worked as a musician in different musical genres since 2007, starting as a guitarist in mariachi Vallarta, later transitioning into the jazz scene featured as a musician in the staging of the popular show "Rhythms of the Night". Musically trained academically in Mexico City at the Gmartell College of Music, one course taught by the Berklee college of music called Berklee Latin, whilst he also immersed himself in other private master classes with well recognized bassists in Mexico City. The genres in which he has played throughout his career are Mexican folklore (mariachi), funk, R&B, jazz, and many other Latin styles and rhythms. Most recently experienced playing many sold out Canadian shows this past summer with Piel Canela. His creative and unique raw talent on the bass adds diversity and blends seamlessly with the band mates of Piel Canela.
Alberto Ramirez – You may know him as "Mimi" around town. Mimi was raised just outside of Puerto Vallarta in the town La Cruz de Huanacaxtle, hes know for his overall musical versatility and creative abilities in the music industry. His main focus and love for music lies within him and his guitar. His natural flamenco styles playing both Spanish and electric guitar have opened many doors of opportunities for him to collaborate in various musical projects and festivals with many different artists in both Puerto Vallarta and Bahia de Banderas. Mimi also got the opportunity to experience many Canadian shows this past summer with Piel Canela. Mimi is a joy to watch with his artistry of creative guitar arrangements and his fun loving attitude on stage.