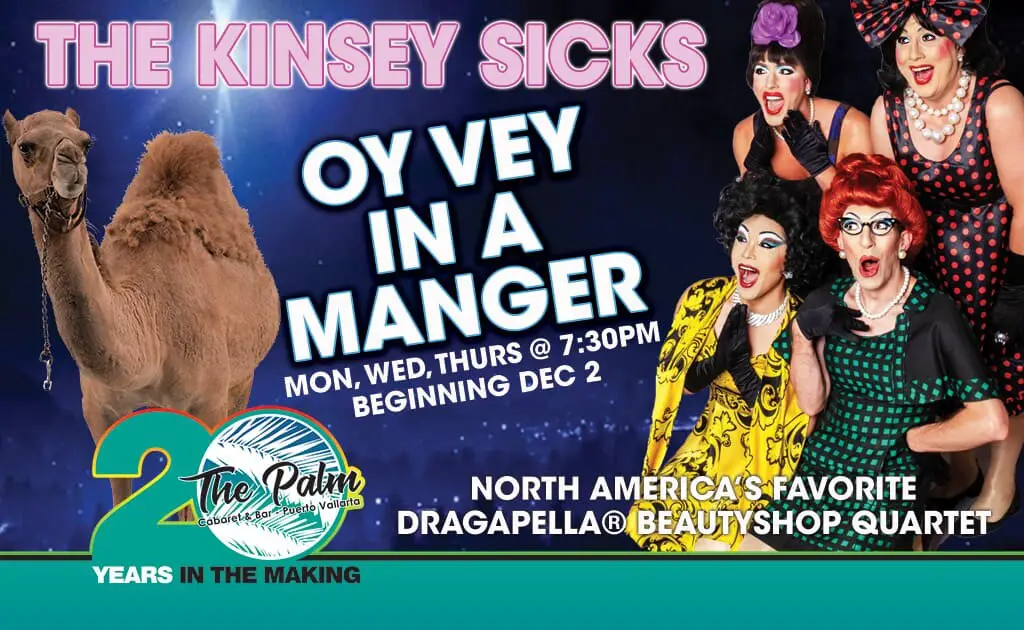 The Kinsey Sicks – Oy Vey In A Manger

In Oy Vey in a Manger, we find Angel, Winnie, Trixie, and Trampolina trying to sell off their manger–yes, that manger–before it's foreclosed upon. Crises arise, secrets are revealed, Jewish-Gentile tensions surface, and mayhem ensues–all in glorious four-part harmony.
Oy Vey boasts The Kinsey Sicks reinterpretations of holiday classics, such as "God Bless Ye Femmy Lesbians," "Satan Baby", and "I'm Dreaming of a Vanna White Christmas", plus hilarious Jewish satiric fare, including "Don't Be Happy, Worry," the Chanukah spa classic "I Had a Little Facial" and, of course, the requisite and new Christmas cuisine standard, "Soylent Night."
America's Favorite Dragapella® Beautyshop Quartet has served up a feast of music and comedy to audiences at performing arts centers, music venues and comedy festivals throughout the US and internationally! Their phenomenal performance record includes an Off-Broadway show, an extended run in Vegas, two feature films and three concert DVDs, nine albums, and appearances in over 40 US states, Canada, Mexico, Europe, and Australia. The Kinsey Sicks' award-winning a cappella singing, pointed satire and over-the-top drag have earned them a diverse and devoted following.