In The Spotlight With Paola of Bar La Playa
My husband and I were first introduced to Bar La Playa through a friend and it was…love at first sight.  The staff (!), the yummy cocktails and the clientele…everything comes together in this perfect little bar.  Located on Làzaro Cárdenas 179 (by the park and just a few doors down from A Page in the Sun), make some fast friends here any time, day or night.  They make a mean cocktail…all the juices are made from real fruit.  If you like the pleasure of seeing new techniques, watch them make you a Smoky Tree (hint:  starts with smoking rosemary in a glass).
Let's meet Paola…
HOW LONG HAVE YOU LIVED IN PV? 
I've lived here most of my life.
WHAT IS YOUR FAVORITE DRINK TO MAKE? 
I like to make 'Release the Kracken' – it's simple and refreshing.
YOU PLAY GREAT MUSIC HERE.  DO YOU HAVE A FAVORITE ARTIST? 
You know, my main goal is to make a party.  I love reggae but I try to mix it up with some R&B and a little funk.
IF YOU WERE VISITING THE BAR JUST ONCE, AND UP FOR TRYING ANYTHING, WHAT WOULD YOU RECOMMEND?
Ooh, definitely 'All about the lavender' because it's good with no matter what type of liquor we use.  It's tasty – not what you expect from a drink made with lavender.
WHAT DO YOU LOVE MOST ABOUT WHAT YOU DO? 
All of us that work here are friends – and when I'm happy working with my friends, I'm going to do a good job.
WHAT IS SOMETHING NOT MANY PEOPLE KNOW ABOUT YOU? 
I like martial arts!  I channel that mindset sometimes when someone makes me mad like they are mistreating someone – and I step up and speak my mind.  I also went back to school to study history.  And I like a painting.
OK, THAT'S A FEW THINGS.  WHAT I WANT TO KNOW IS, WHERE DO YOU BUY YOUR FABULOUS LIPSTICK?
Ha – that's easy.  I buy them at Lans and Sexotio over by the Guadalupe church.
Have you ever been to Bar La Playa?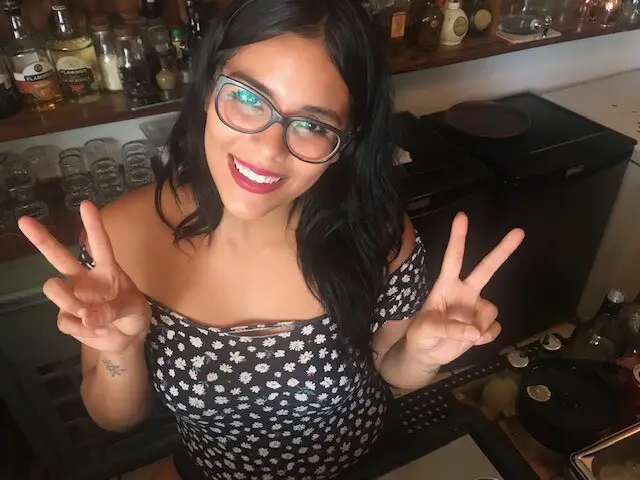 Swim by be happy