Sure, the bars and restaurants of Puerto Vallarta might be slowly grinding into gear after the recent municipal shutdown, but for the people that power this sunny city by the sea, the crisis is far from over.
I´ve been a bit busy lately–a good Scout is always prepared to assist as needed–but in these latest endeavors I´ve been lucky enough to encounter some locals that truly embody the spirit that built this website as well as those especially determined to enjoy their ride around the Sun…and so, this is the Pulse of PV.
Nacho Daddy Answers the Call
Ripple effects from the resource. rousing efforts of Monzon´s Miranda continue to send good vibrations across the south side as Basilio Badillo´s most popular sports bar´s community kitchen program rolls on each Wednesday afternoon.
During a chat with Tammy of Nacho Daddy (from a responsible social distance), she noted that Miranda helped her understand that feeding the streets of Vallarta was not only easy, but essential for local venues who have enjoyed a warm welcome in their adopted hometown. Since expanding their initiative in recent weeks, Nacho Daddy has provided locals with 350 meals at each session through the contributions of their patrons.
Seems like something your favorite bar could manage too, right?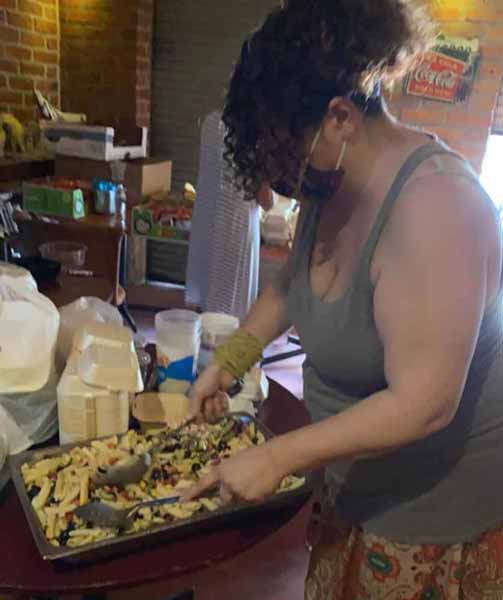 Good Mornings for Hungry Locals in Plaza De Armas
Some of my new community activities have also put me on the early shift from time to time (another wild 2020 plot twist) and so crossing the town´s main square across from Los Arcos Amphitheater one recent morning also meant crossing paths with Sam Cress of Angel Yoga.
What started as the ambition of a few properly engaged locals quickly turned into an impressive collaborative effort, with the Angel Yoga team preparing a hearty-looking breakfast for hundreds of Vallarta residents every morning. Yes, today. Yes, tomorrow…well, with your help.
Know Your Role
With good times so central to the local economy, 2020 has drawn into focus the importance of responsibility as well. By incorporating measures recommended by the state, many local bars and restaurants have been able to reopen on a limited basis.
The reason many of these businesses have been allowed to reopen their doors is that they would be forced to close permanently in the event of a second municipal shutdown, and with the recent announcement by Jalisco state government that a 15-day automatic shutdown of everything inedible is being considered as a potential emergency measure, that means the survival of your favorite places in PV may be determined by public responsibility. .
…and so, as the Banderas Bay welcomes the world once more, if you´re itching to hit your favorite bar, beach, or beach bar, this is AJ reminding you to stay safe, mask up, and wash your hands.