Welcome to our 'Be Our Guest (Writer)' series – a compilation of short stories of how others came to adopt Puerto Vallarta as their home or place they often visit. The town has some addictive qualities that keep people coming back – the people, the beaches, the restaurants and bars, the art scene, the music scene, the theaters, the tours, the hundreds of friendly smiles that greet us here each and every time.
We all thought we had found something special in this place, that we had discovered a perfect paradise. We were on to something.
But then we learned there were hundreds, no thousands, of us that felt the same way. This series lets us experience what it is like for other people who love the same city you love. From their point of view.
Each story is unique and yet we find ourselves identifying with our writer on so many levels – the feeling of being here and what it feels like when we're away, the 'secret' little places we discover, how we come to accept things here that our past lives wouldn't allow, the science of what happens to our stress levels when we spend time here- it's all wrapped up in a neat, 300+ word document.
So why aren't we hearing about YOUR story? Find out more how to submit your article here.  Enjoy these articles from others as we share them one experience at a time.
Without further delay, here's Ron:
A Chance Meeting During My Trip to Puerto Vallarta Created One of My Best Memories
My first trip to Puerto Vallarta in 1979 was an amazing experience. I was 22, traveling with friends, after a wonderful 7+ days, I had arranged to stay a couple of extra days on my own.
So there I was early on a Wednesday morning about to board my flight to Houston, returning to school at SFASU, sunburnt to a crisp, hair down to my shoulders, a bit hungover, and with maybe $5 to my name which I figured was okay as I'd be home in a few hours. I hand my ticket to the guy at the counter ($5 went further then), he takes it and walks away. About that time another guy walks up and asks for my ticket, I tell him I'd just given it to the other guy, who of course was nowhere to be found. I kept trying to explain the situation, and was answered repeatedly with "So sorry Señor".
By that time I'm panicky, thinking I'm stuck in Mexico with virtually zero funds. I started talking VERY loudly, tears running down my face. After a couple of minutes, this mid 50ish American woman walks up and tells me my screaming was making things worse. She introduced herself as Molly Muir. She got me calmed down and explained she had a B&B and I was safe for the night. On the way to her place she explained that she lived with her 95-year-old mother who "doesn't like anyone."
Upon arrival at her B&B, she mixes me a very strong screwdriver, and I notice beautiful B&W photos of Yosemite and many other places. I asked her about them, and imagine my amazement when she casually mentions that her great uncle, her mother's uncle, was the naturalist and the man who conceived the Sierra Club, John Muir, a hero of mine to this day.
About that time her mother shows up, looks me up and down with a frown, and says to Molly "Well, who's this?" Molly was quick to tell me not to be offended. The 3 of us sat down to several more screwdrivers, whereupon I went on and on about my huge respect of their famous relative. This was a magical night and meant to be.
Her elderly mother took a liking to me and about midnight brings out this tiny mink coat she'd received from the Czar of Russia when traveling with her uncle in Russia as a little girl at the turn of the century. We stayed up till the wee hours and I listened to many stories about both their childhoods with John Muir. About 2 AM, Molly handed me $10 dollars in pesos, and told me to go to town and have fun.
Off to bed they went (after showing me my very comfortable room). The next day Molly and her mother purchased me a ticket back to Texas (I sent her a money order upon my return.) The last thing Molly told me before I got on the plane was "Like I said, my mother doesn't like anyone, but she sure likes you".
It is one of my best memories. I was saddened to hear Molly passed away just a couple of years ago. I will always be grateful to the two of them for showing a complete stranger such kindness and generosity. This experience on my trip to Puerto Vallarta is a big part of the reason why I love PV and have wanted to live there for 38 years. My long-awaited dream of living in Puerto Vallarta comes to fruition this fall.
Thanks for letting me share.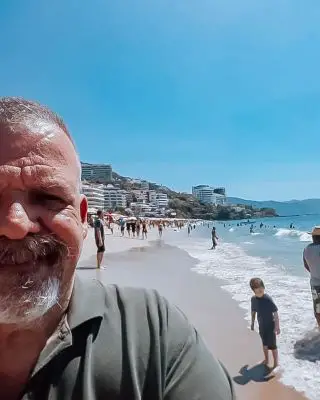 Ron Johnson
Long time traveler to Puerto Vallarta and soon to be full-time resident.