Welcome to our 'Be Our Guest (Writer)' series – a compilation of short stories of how others came to adopt Puerto Vallarta as their home or place they often visit. The town has some addictive qualities that keep people coming back – the people, the beaches, the restaurants and bars, the art scene, the music scene, the theaters, the tours, the hundreds of friendly smiles that greet us here each and every time.
We all thought we had found something special in this place, that we had discovered a perfect paradise. We were on to something.
But then we learned there were hundreds, no thousands, of us that felt the same way. This series lets us experience what it is like for other people who love the same city you love. From their point of view.
Each story is unique and yet we find ourselves identifying with our writer on so many levels – the feeling of being here and what it feels like when we're away, the 'secret' little places we discover, how we come to accept things here that our past lives wouldn't allow, the science of what happens to our stress levels when we spend time here- it's all wrapped up in a neat, 300+ word document.
So why aren't we hearing about YOUR story? Find out more how to submit your article here.  Enjoy these articles from others as we share them one experience at a time.
Without further delay, here's Chiara:
Becoming a Residente Permanente in México wasn't exactly a well thought out plan
Becoming a Residente Permanente in Mexico wasn't exactly a well thought out plan, but from what I've learned from many other lovers of Vallarta, our story is a familiar one. We're seasoned travelers so we decided to fly south to escape the wet and cold of the Pacific NW in late October 2018 as well as enjoy Dia de Los Muertos. The trip was only meant as a wee sojourn to check out long term rentals for the next winter before our 'planned' trip to Costa Rica in February.
Within three days we became the proud and astonished owners of a beautiful condo with a view of Bahía de Banderas and the city that still takes our breath away. This completely unexpected and exciting purchase changed all our plans for the immediate future. The first, of course, was to cancel the bucket list trip to Pura Vida Land and make swift plans for the synchronicity of living in Puerto Vallarta on Calle Costa Rica.
We love all the same things about Puerto Vallarta (and Mexico in general) that most immigrants and vacationers do. These include the amenities of a mid-size city, the wonderful climate, the rich culture, the ocean, and clean air, the locally grown food, fresh fish, the appealing lower cost of living, the opportunities for service and the sense of community that binds transplants like ourselves, and especially the warmth and generosity of the Méxican people who have welcomed us into their families.
But there are two other characteristics about living here that we actually cherish as much even though they drive many ex-pats loco. These are the fluid essence of Mañana Time and the quirky nature of Casi Perfecto. Being retired, we quickly adapted to a mañana lifestyle. Adopting casi perfecto as a mindset brought us a more profound sense of ease and relaxation. We've now perfected the art of accepting almost perfect when it comes to almost anything.
Embracing fluid time while enjoying Vallarta's quirky ingenuity of construction or remodel projects, Bustamante sculptures, folkloric murals, cobblestone Calles, the daily chorus of birds, roosters and barking dogs, even the loud midnight musical interludes from the streets make our life here an ongoing adventure and a gran alegría.
Take Good Care.  Stay In Touch
Chiara Montante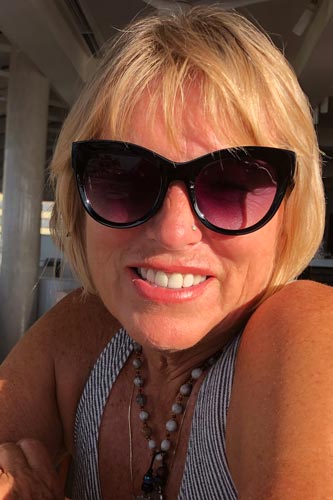 Chaira Montante
Chiara Montante is a writer and published author under a nom de plume. (for another time!) A lifelong entrepreneur, Chiara's longest and most gratifying career was as the founder of The Turning Point Integrated Therapies in Tacoma, WA. USA where for 28 years she practiced as a healing artist. She has also been a lifelong social justice advocate and community activist. Chiara and her husband, Tom are lovers of Puerto Vallarta now!